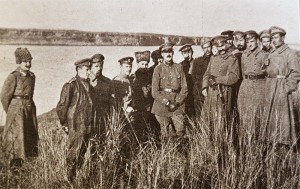 French Adrian helmet worn by Romanian soldiers presented in the rooms of the Musée de l'Armée. An agreement signed with the Allies in 1916 provided that France equip the Romanian army with modern equipment such as the Adrian helmet. The equipment came in part in January 1917. The front of the helmet is clad with a double "F" in reference to Ferdinand I. © Paris, musée de l'Armée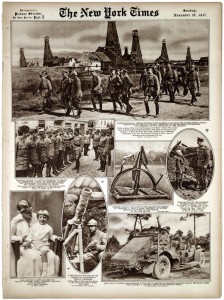 As the The New York Times recounts, on 25 November 1917, Romania was of interest to the Central Powers for its oil and cereal resources. Prince Rupprecht wrote on October 18: "Our troops are still tired and dropping in frightening fashion (…) If the Austrians leave us in a lurch and we no longer receive oil from Romania, in two months, our air forces will no longer function. " ©  Washington, Library of Congress
Armistices before 1 November 1918
Focșani, December 1917
The armistice was signed on 9 December 1917 between the Central Powers and the Kingdom of Romania.
In 1884, the King of Romania signed an alliance treaty with the Central Powers. However, during World War I, the government wanted to side with the Allies, ultimately doing so in August 1916.  After a few successes, the Romanian troops found themselves in tottering. They did not feel sufficiently supported by the troops of Salonique led by Général Sarrail. The kingdom was isolated and partly occupied by Austro-German troops.  After the Russian Revolution, Russian troops were no longer being used to plunder and kill any Romanian soldiers and civilians attempting to stand up to thm.
The Austro-Hungarians took advantage of the situation: their Foreign Minister, Ottokar Czernin (1872-1932) made it known that the request for an armistice made by King Ferdinand I (1865-1927) would not be rejected by the central powers. The armistice culminated in the signing of the Bucharest Treaty on 7 May 1918. The Treaty was not ratified and in the autumn of 1918 its application was called into question. On 31 October 1918, Romania denounced the Treaty and resumed hostilities against the Austro-Germans on 10 November 1918.