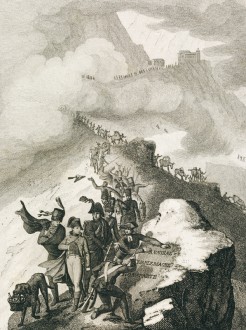 Crossing the Alps via the Saint Bernard Pass by Louis-François Lejeune (1775-1848). © Paris, musée de l'Armée, Dist. RMN-GP / Émilie Cambier
Two pets are visible on this photograph of the First World War; A dog is sitting on a soldier and a cat is perched on the roof of a shelter. © Paris, musée de l'Armée, Dist. RMN-GP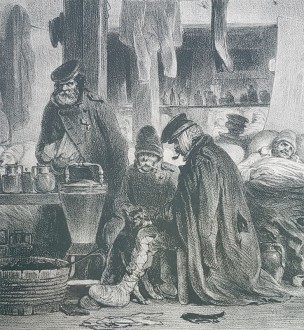 Interior of the armored hospital, Antwerp citadel 1832 by Auguste Raffet (1804-1860). © Paris, musée de l'Armée
Soldiers' Best Friend
The soldier's source of consolation
Fighting, feeding, serving but also comforting: the role played by animals is not exclusively utilitarian in times of war. The unmixed affection of a dog for his master or the antics of a cat can be a source of joy or at least distraction for soldiers faced with hunger, cold, fear and the prospect of an approaching death.
The war of position offered a favourable ground for soldiers to adopt a pet. Thus, soldiers started gathering and domesticating all the animals that they met, dogs and cats naturally, but also species as varied as astonishing. Although the presence of domestic animals in the trenches was officially prohibited in the French Army, officers often turned a blind eye to this situation because the pets greatly contributed to boost the morale of their men. In his book on the First World War The Cut Hand, French writer Blaise Cendrars recounts that his Company tamed a hedgehog that ended up sharing the Poilus' daily life. Unfortunately, the animal died for drinking too much alcohol, one of the main ills that affected many soldiers at the time.
The Status of Animal-Soldiers
Nowadays, the way animals are treated in wartime may seem cruel. To ensure the presence of a faithful companion, soldiers sometimes captured wild animals they kept locked up in small cages, even though fighting was raging around them. It is certain that these attitudes correspond to the way animals were considered at the time, however, they also indicate the extreme living conditions imposed upon the soldiers who did not think that they were abusing their companions although they were forcing them to endure same the level of violence imposed upon them.
In France, according to the recent law N°2015-177 of 16 February 2016, the Civil Code states the "The animals are living beings endowed with a sensibility".  Their master must give them the best living conditions they can and treat them accordingly.  One wonders how soldiers who are deployed on the theatre of operations treat their pets. The fate of the French police dogs Diesel and Fitas, the Shepherd Malinois of the French 132nd Dog Battalion clearly illustrates the fact that animals are taking no less of a risk position than their masters.