In the scenes above, we can see two different types of food supply to an army in the field. In the best of circumstances, this food was purchased, as it is the case in the lithograph by Draner depicting a soldier wearing a bearskin hat out to purchase a mallard, fish, carrots, bread and alcohol in the market place.  In the worst scenario, the food is stolen.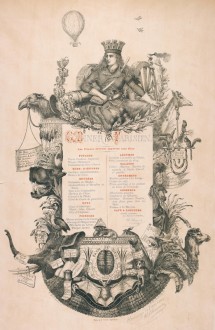 Gourmet dishes in a Parisian high-class restaurant during the Siege of Paris (1870-1871). © Paris, musée de l'Armée, Dist. RMN-GP / Pascal Segrette
Animal-Food
Dinner is served!
Animals for food are omnipresent. In a war-related context, food is all the more important since it plays a major part in sustaining the soldier's morale, the best way to ensure both military resilience and combat motivation. Furthermore, adequate and varied tasty food provides to each soldier the energy and nutrients his body needs. Meat is particularly appreciated by most soldiers in the field, who in turn, may be viewed as carnivorous predators.
Feeding the soldiers…
Ever since Antiquity, strategists, including Julius Caesar, stressed in their war treaties on the capital importance of integrating an operational food supply to a wartime logistic system in order provide sufficient nutrition to both men and animals. The quality of food supply relies mostly on food storage facilities characteristic of the successive ages.  Although, much of the food is transported with the troops, fresh supplies are also needed throughout the military campaigns and for some considerable time the so-called "animals for food" were transported alive. Cows, goats, ewes and camels provided fresh milk before being consumed, while hens and geese produced eggs. This transport considerably slowed down troop movements and made them more visible. Moreover, keeping the said animals imposed an additional burden to the troops in the field.
…Prepared to sacrifice their lives
Under extreme circumstances, animals serving in the field could also be slaughtered. This is what happened during the First Indochina War (1946-1954) when French high command ordered their beleaguered troops to slaughter and eat a thousand airfreighted "auxiliaries" mullets and pony rather than leaving them to their Viet Minh opponents.