December 1917: on the cobblestones of the main courtyard of the Invalides, civilians and military climb into the front gondola of the German Zeppelin LZ.49, to subscribe to the third National Defence loan, launched in November 1917.
Giving the French access to this gondola, covered by a tent, responds to several objectives: to show that we were capable of defeating the enemy, to mobilise resources (in this case financial) in the rear, to satisfy the curiosity of the public , frightened by these machines of war, but fascinated by their technique
The German programme: to frighten Paris
The German caption on this satirical postcard may be translated as: «Oh my God, it bangs and cracks so much/ That all Paris wets its pants» Just below the Zeppelin, the beam of the projector installed on the top of the Eiffel Tower, and used to help locate these flying machines can be seen. Apart from the airship, there is also a plane which has just dropped a bomb.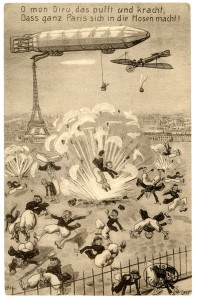 A great shot
The Zeppelin was a type of rigid airship manufactured from the 19th century by the company owned by Count Ferdinand von Zeppelin (1838-1917) and used by the German army for reconnaissance and bombing missions. The L-49 or LZ.49, for Luftschiff (airship) Zeppelin model 49, were among the «High Climbers», the «climbers», lighter than the earlier models: it reached a cruising speed of 113 km per hour and could climb to a height of more than 6,000 metres, with two tonnes of bombs on board.
The LZ.49, returning from a bombing mission over England on 19 October 1917, with 11 other airships, got lost in bad weather. Pursued by French planes, it was forced to land close to Bourbonne-les-Bains, in Lorraine. This was one of the rare Zeppelins captured in good condition: French and American engineers came running to study it. It was then disassembled so that it could be shown at the Invalides.
Financing the war
The First World War, much longer and more destructive than foreseen, was extremely costly. Loans from the Banque de France, British or American banks, the increase in the money supply were not enough to finance it. In addition, the State launched four major loans (one each year from 1915 to 1918). The rooms in the Musée de l'Armée devoted to the Great War contain reproductions of the posters announcing these loans; including the one of 1917.
A Zeppelin bomb is also displayed in these rooms.