In the foreground, to the right, already decorated, a non-commissioned officer whose right leg has been amputated is looking at the photographer. He belongs to the 37th infantry or artillery regiment; the figure is visible on his collar. The third and fourth soldiers, also wounded, have been decorated with the Croix de Guerre.
The Croix de Guerre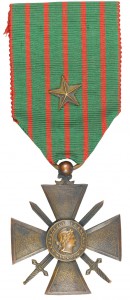 At the start of the First World War, two decorations could be awarded to French combatants: the Legion of Honour, created in 1802 by Napoleon Bonaparte, which rewards «outstanding merits» acquired in the service of the State, either as a civilian or as a military, and the Military Medal, created in 1852 by Louis-Napoléon Bonaparte, who became Napoleon III. An act, passed on 2 April 1915, created the Croix de Guerre, intended to commemorate individual citations for acts of bravery. It rewards members of the armed forces, and also civilians and militarised personnel. The implementation decree of 23 April 1915 specifies that the Croix de Guerre may be awarded, at their request, to the parents of deceased beneficiaries.
On the reverse side of the medal, there is a bronze Florentine cross with four branches, with two crossed swords between them. In the centre, a medallion decorated with a head of the Republic wearing the Phrygian cap and adorned with a crown of laurels. Around the medallion is the inscription «French Republic». Originally, it also had «1914-1915», then, when the war dragged on, «1914-1916», «1914-1917» and finally «1914-1918». The original model was designed by the sculptor Paul-Albert Bartholomé (1848-1928).
The Senate decided on a green ribbon with a red border on each side and five vertical red bands running through it, combining the symbols of spilt blood and hope. The mentions are pinned to the latter: bronze palm in the form of a laurel branch for the Army; a silver-gilt star for the Army corps; a silver star for the division; a bronze star for the brigade and the regiment.
The headquarters of the Association Nationale des Croix de Guerre and the Croix de Valeur Militaire are today located in the Hôtel national des Invalides.