This picture comes from a 1918 photo report on the last old soldiers from the previous century, pensioners in the Institution Nationale des Invalides (National Invalides Institution) (situated in the Hôtel des Invalides).
One of these pensioners is sitting in the room, which serves as his bedroom, surrounded by daily life objects. He is wearing the Invalides uniform: a long dark blue coat fastened by a double row of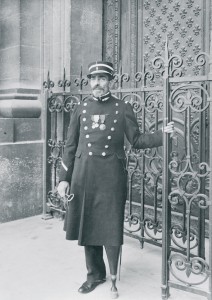 gold buttons, woollen trousers, a shirt and a cap with a shiny peak. Three of his military decorations, fastened to the front of his coat, can be seen here as well as the chain of a pocket watch. Under the table, we can also notice his wooden leg.
During the Great War, the pensioners guarded Napoleon's tomb and the museum's rooms. Some of them also took part in the handing over of the flags.
Louis XIV, founder of the Invalides
From 1671, the king of France Louis XIV had the Hôtel des Invalides built to take in soldiers who, due to age, illness or injuries, were no longer capable to serve in the king's armies. They could therefore end their lives under favourable conditions.
Even today, the Institution nationale des Invalides operates as a hospital, but continues to take in former members of the French forces.