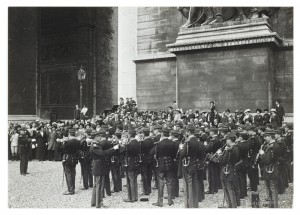 The arc de triomphe de l'Étoile
On 17 July 1915, the coffin of Rouget de Lisle was taken from a van and placed on a wheeled gun carriage beneath the arc de triomphe de l'Étoile. The coffin was covered with a red velvet draperie with gold thread fringe. In front of the carriage fourteen Tricolores were arranged side by side on a caisson. The carriage and caisson were drawn by six harnessed horses..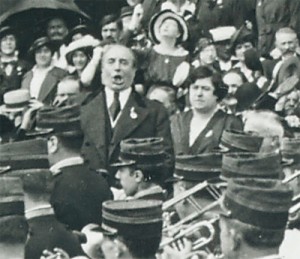 At the same time, at the foot of La Marseillaise sculpted by Rude, musicians of the Republican Guard played the French national anthem. On the photograph above, we can see that for the most part, they are playing a wind instrument. Standing on a podium, to the right of the musicians, Marie Delna sung the first verse of the anthem. The chorus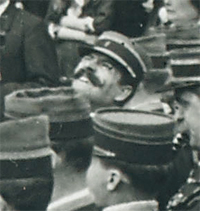 was then led by the choirs of the Opéra de Paris, the Comédie Française and the Conservatory of Music of Paris. Then Henri Albers took over and sung the second verse. The singers alternated the verses and the chorus all throughout the anthem. We can see that one musician looking up to the sky–could it be that the noise of the planes above distracted him ?
At ten o'clock, the coffin was carried in procession down the Champs-Élysées to the Hôtel national des Invalides. The French president of the Republic, Raymond Poincaré and 15 of 32 members of his government walked behind the carriage.
In front of the Soldiers' Church–today referred to as the Saint-Louis-des-Invalides Cathedral–after listening for the second time La Marseillaise, Raymond Poincaré delivered an address that was published the next morning and generated headlines in all French newspapers. In his address, the French president made a connection between the political context of the creation of La Marseillaise in 1792 and the political context of July 14, 1915, and reasserted the need for a Sacred Union if France was to defeat Germany.
The French government commissioned Joseph-Félix Bouchor a commemorative painting of the translation of the remains of Rouget de Lisle. The artist got his inspiration from a photograph and added the Genious of War by François Rude which he positioned above Poincaré's head. The masterpiece was displayed at the Museum of Luxembourg in February 1916.