American Volunteers
The United States in August 1914
On 4 August 1914, as the great European powers took up arms against one another, it was quite clear that American public opinion favoured neutrality and non-intervention. On 19 August 1914, President Thomas Woodrow Wilson (1856-1924) delivered before the U.S. Senate his Declaration of Neutrality of the United States of America in which he stated that […] "the United States must be neutral in fact, as well as in name, during these days that are to try men's souls. We must be impartial in thought as well as in action, must put a curb upon our sentiments as well as upon every transaction that might be construed as a preference of one party to the struggle before another". The reasons for neutrality were numerous and varied: a lasting isolationist policy and strong ties to Europe since a large proportion of the American population either born in one of the countries at war or still close relatives living in Europe.
American Volunteers, in spite all of this!
In spite of President Wilson's Declaration of Neutrality, the Convention (V) respecting the Rights and Duties of Neutral Powers and Persons in Case of War on Land signed at the Hague on October 1907 in which it is stated that a "Corps of combatants cannot be formed nor recruiting agencies opened on the territory of a neutral Power to assist the belligerents" and the Expatriation Act of 1907 that provided for loss of citizenship any American taking an oath of allegiance to a foreign state, some American citizens choose to join the Canadian, British and French military.  In France, the American solved the problem by joining the Foreign Legion as it is the only unit of French military that does not swear allegiance to France but to the Legion itself.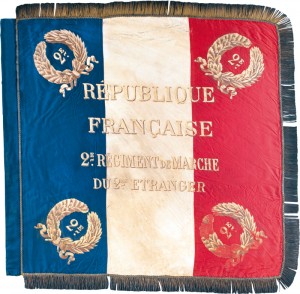 The flag shown here is one of the two flags American Volunteers marched behind on 21 August 1914 in the Court of Honour during the ceremony at the Hôtel des Invalides in Paris where some 50 Americans representing all walks of life were received into the 2nd Regiment of the Foreign Legion.  On 25 August 1914, the first group of American volunteers gathered at 165 rue Saint-Honoré and proudly marched behind one French and two American flags to the Gare Saint-Lazare to board a train at 9:30 am en route to a training camp at Rouen.  Following an intense military training at the Camp de Mailly, the American volunteers started on their march to the trenches in the Rheims sector on 18 October 1914.