The visit of François Coulon, curator at the Museum of Fine Arts of Rennes, in our museum on February 12, was the occasion of a new rapprochement between the two institutions.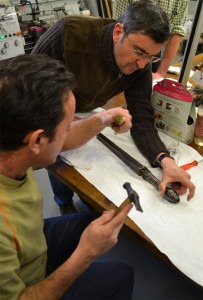 Over one hundred artifacts from the collections of the musée de l'Armée are on deposit at the musée des Beaux Arts de Rennes since of the last century. Ever since, both museums have forged close ties that encompass various aspects of the museum world such as the verification and expertise of the museum collections. It is within this framework, that the Breton museum, with its rich collection of military artefacts, has requested the expertise of the musée de l'Armée.
François Coulon says: "We are more focussed on seventeenth-century painting, so these artefacts fall outside our competence. We thus seized the opportunity to get an expert advice from specialists with whom we work regularly".
The Metal Restoration Workshop of the musée de l'Armée will focus on making the exhibit bases for crossbows and rondaches and ensure the conservation and restoration of portable firearms, amongst which a small wheellock pistol with four rotating barrels carefully studied by Olivier Renaudeau, curator in Chief of the Arms and Armour department of the musée de l'Armée and Didier Lescarbotte, specialist in the restoration of firearms in the Metal Restoration Workshop of the museum.

The collaboration between the two museums will soon be strengthened as a sixteenth-century armour from the collections of musée des Beaux Arts de Rennes will soon be deposited in the musée de l'Armée.
Olivier Renaudeau says proudly: "Once fully restored, this magnificent piece presented to the musée of Rennes in 1803 by General Lariboisière, will find its rightful place in the Gallery of the Arsenal".
However, prior to that, this armour will be one of the masterpieces put on exhibit in the next exhibition Chevaliers et Bombardes, d'Azincourt à Marignan (1415-1515) which will open at the musée de l'Armée in Octobre 2015.
Michael Cesaratto
Old Department of the musée de l'Armée