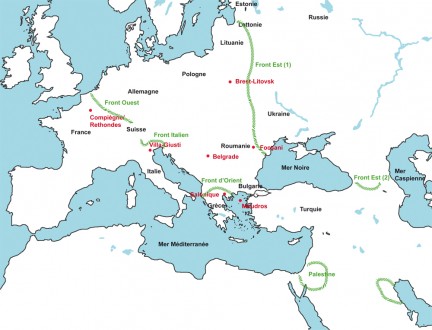 Map depicting the locations of each armistice and front. © Paris, musée de l'Armée.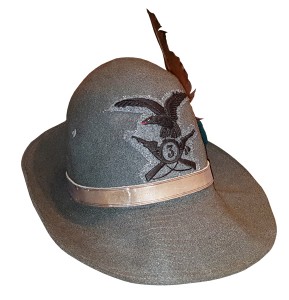 An Italian soldier's haircut. © Paris, musée de l'Armée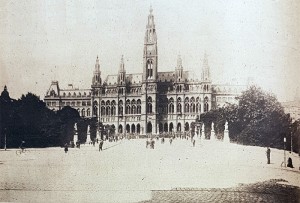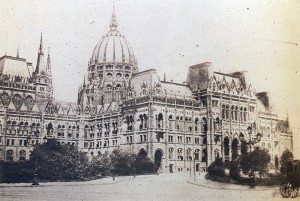 The newspapers, which did not have enough illustrations to cover the event, published a photograph of the City Hall in Vienna and the Royal Palace in Budapest instead. © Paris, musée de l'Armée
Armistices before and after the 11th November
Villa-Giusti, November 1918
This armistice was signed in Italy at Villa-Giusti on 3 November 1918, with effect the following day, 4 November at 3 PM. It marked the end of hostilities between the Austro-Hungarian Empire and the Allies (France, Great Britain, Russia, which the Italians joined on 26 April 1915) and ended the fighting on the Italian front.
On 29 October 1918, the Austrians submitted to the Italians a request for a ceasefire that the Austro-Hungarian fighters applied without delay. Hungary withdrew from Austria on 31 October 1918. General Viktor Weber Edler von Webenau (1861-1932), Head of Austrian Delegation, met with the Italian delegation led by General Pietro Badoglio (1871-1956), at Villa-Giusti. Armistice conditions demanding Austria-Hungary's capitulation were sent from Paris. Von Webenau initially refused to accept them, but with Emperor Charles I of Austria, the ministers and the generals unable to make a decision, he accepted. The authorisation from the Emperor-King came slightly later. The signatories were military personnel, seven of them for each of the supreme commands, the Autro-Hungarian army and the Italian army.
Compiègne dit Rethondes, November 1918
This armistice was signed on 11 November 1918 at around 5 a.m. in the Compiègne forest.
Belgrade, November 1918
An agreement was concluded in Belgrade on 13 November 1918 between the Allies, represented by General Franchet of Esperey, and the new Hungarian Government of Mihály Károlyi (the Hungarian Democratic Republic was actually proclaimed on 16 November 1918). The signatories were: for the Allies, General Zivojin Michitch (1855-1921), Chief of Staff of the Serbian Army, and General Paul Henrys (1862-1943), Commander of the French Army of the Orient; and for Hungary, Béla Linder, former Minister of War (resignation on 9 November), Minister without portfolio. Many articles of the Convention referred to the provision of transport and communication resources to the Allies.