On 9 February 1943, General de Gaulle instituted the French Resistance Medal to reward remarkable acts of resistance. To this day, it remains the only decoration instituted during the Second World War, along with the Cross of the Liberation, and is awarded by means of an order, following the examination of a nomination dossier.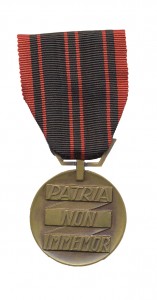 The French Resistance Medal is struck from bronze and bears at centre a Cross of Lorraine with the date of 18 June 1940 along with the Latin inscription PATRIA NON IMMENOR (the Nation Does Not Forget). Its black and red ribbon symbolizes the memory of spilt blood and the mourning of the dead. The French Resistance Medal 1st Class is presented with a rosette.
The French Resistance Medal was awarded, even posthumously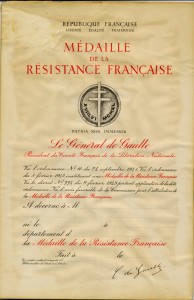 , to 25,400 fighters composed of men, women and children alike. This distinction was also awarded to military units and civilian communities, totalling 65,200 medal-holders, including 17 towns and villages in France and New Caledonia. The French Resistance Medal was also awarded to 430 Companions of the Liberation.
Credits : © the Musée de l'Ordre de la Liberation / All rights reserved.