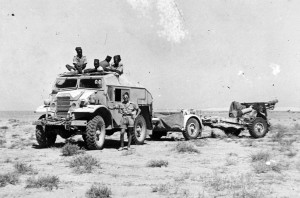 In 1940, a small artillery group composed of volunteers of the Free French Forces, was formed in Britain. This small group was reinforced with colonial artillerymen from French Cameroons, headed by Captain Laurent Champrosay who took command of this new unit.
In 1941, the small unit fought against the Italians in Eritrea and against the Vichy troops in Syria before being organized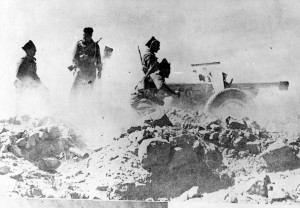 as the 1st Free French Artillery Regiment (1er RAFFL). Equipped with French 75 mm field guns, the unit fought in Libya, at Halfaya, in January, and at Bir Hakeim, in May-June, where it suffered significant losses. Reorganized, in took part in the Second Battle of El Alamein, in Egypt and in the Tunisia Campaign, in May 1943.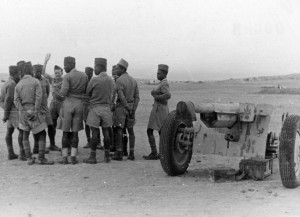 In 1944, it was attached to the 1st Free French Division, and with additional personnel, landed in Italy in April and France in August. It distinguished itself during the taking of Toulon and its advance through the Rhône and Saône Valleys. In March 1945, it was rechristened 1st Colonial Artillery Regiment (1er RAC) and ended the war in the Alps.
34 Companions of the Liberation served in the 1st Colonial Artillery Regiment.
Credits : © the Musée de l'Ordre de la Liberation / All rights reserved