On the great esplanade of the Invalides stands a group of British Indian Army cavalrymen recognisable by their turbans and the spurs fastened to their heels.
The Indian Army in Paris
Three of them posed for the photograph. The soldier on the left is holding two swords. No doubt he was requisitioned for the photo without having had the time to give the second weapon back to one of his comrades.
The Indian troops were among the first to take part in the British Expeditionary Force fighting in France against the Germans, although later on, they were often used on other fronts, such as in Egypt.
Bagpipes and tartans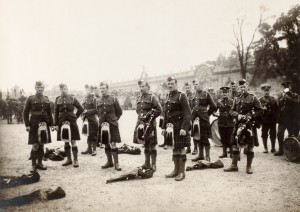 Wearing the kilt is one of the Scottish traditions and is distinctive of a large number of Scottish troops. This photograph, also taken on the Invalides esplanade, shows these soldiers belonging to a British band standing waiting. Several bagpipes, as well as percussion instruments, are lying on the ground. The pipers are wearing the traditional kilt with the sporran hanging in front. The sporran is a pouch made of leather and horsehair which compensates for the fact that the kilt has no pockets.
The kilt is a band of tartan fabric about 7 metres long, pleated at the back and sides, while the front is flat so that its colours can be clearly seen.