On 1 June 1916, General Gallieni's funeral procession crossed the threshold of the central wing of the north façade of the Hôtel des Invalides. A large tricolour flag covers the coffin.
In front, 10 flags are fanned out over two levels. Behind the hearse, Gallieni's decorations, displayed on cushions, are carried by soldiers. A little farther away, the official procession follows. On each side of the driveway, soldiers, wearing Adrian helmets, form a guard of honour, standing to attention, with fixed bayonets. To the right, in the foreground, a French general officer is wearing a black mourning armband.
Let us go back a little, to look at one of the rare photographs showing the interior of the church of Saint-Louis des Invalides on the day of the ceremony (see picture above). The coffin is framed by two rows of large candelabra and floral wreaths.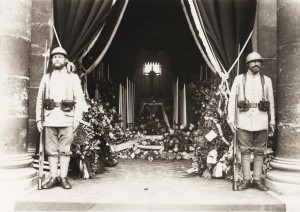 At the time of this state funeral, Georges Clemenceau, who supported Gallieni, wrote:
" General Gallieni is the man whose rapid decision gave us the battle of the Marne. He is the true saviour of Paris. The state funeral is only the start of justice being rendered. Consequently, everything else will follow. Opinions will come in time and the memory of Gallieni can serenely wait for the future. "
Gallieni in the Great War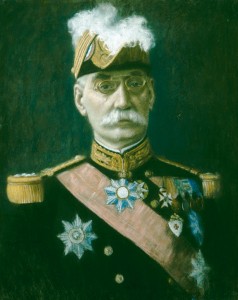 General Joseph Gallieni (1849-1916) was appointed Military Governor of Paris on 26 August 1914. To help the French counter-attack against the German armies which had got under way, he requisitioned 630 Paris taxis on 5 September 1914. At 10 p.m., they assembled on the Invalides esplanade, then crossed Paris to pick up the soldiers of the 103rd and 104th infantry regiments. Four or five men got into each one and were driven close to the fighting area, to take part in the first battle of the Marne. Gallieni then became Minister of War from October 1915 to March 1916. In ill-health, he died on 27 May 1916, from the results of an operation. According to his wishes, he is buried in Saint-Raphaël, beside his wife. He was posthumously promoted to the position of Marshall of France, on 7 May 1921.
One of the famous Marne taxis can be seen in the rooms dedicated to the First World War in the Musée de l'Armée.