The photograph does not go unnoticed on the Invalides esplanade. Many soldiers, having a «snack» or waiting, look at it, some of them even striking the pose. They have put down their heavy kit bags and stacked their guns together.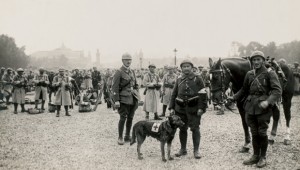 They are wearing the Adrian helmet which, from 1915, was gradually provided to the French army. In the centre, in the foreground, there is an officer wearing two medals and a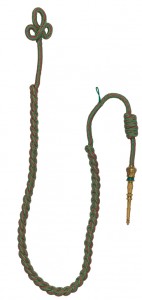 fourragère on the left shoulder. This decoration, composed of a cord ending in a metal tag, in general rewarded a military unit for acts of war or exemplary bravery. On the right of the photograph, also in the foreground, the cavalryman wears the same fourragère on the shoulder. Between the two, a nurse with the fourragère can be recognised by his Red Cross armband, similarly to his medical dog. They belong to a regiment of hunters, with the hunting horn visible on the front of their helmets and on their collars.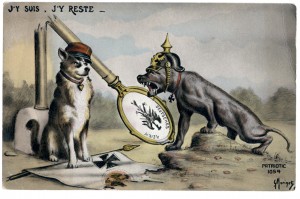 The soldier's best friend
In August 1914, there were markedly less dogs in the French army than in the German army. In addition, in 1915, about 3 000 dogs were taken from dog pounds, the society for the protection of animals or from private individuals. Sometimes they were even German army dogs taken by the French. The war dog had a civil status, a military passbook, an identity tag and equipment. There are several categories of military dogs: guard dogs, liaison or despatch dogs transmitting messages, sled dogs, rat-catching dogs, medical or ambulance dogs whose job was to find the wounded, not forgetting the mascots. The French army's dogs were, above all, medical dogs.
A postcard with a dog…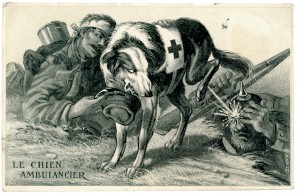 Postcards also give the medical dog a place of honour. The following design can be found in almost all countries at war. This type of card was however forbidden by the censor from 1915 as both French and Germans censors felt that denigrating and mocking the enemy could have the opposite effect to the one sought.