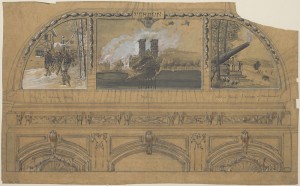 At the start of the battle, French troops put up a bitter resistance against Germany's incredible will to triumph. At the same time, contemporaries sensed that this battle was bound to determine the course of the war as reported in newspapers around the world.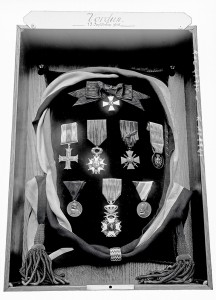 On 10 April 1916, General Pétain issued his famous order of the day to the troops :
«Courage ! We shall get them».
With two-thirds of the French Army rotating in and out of Verdun, a battlefield where no Allied troops took part, this emblematic battle rapidly epitomized the courage and determination of the French «Poilu».
On 13 September, as the German embrace begun to loosen, the President of France, Monsieur Raymond Poincaré awarded the city of Verdun the Croix de Guerre (Cross War) and the Legion of Honour. In his speech, he revealed the symbolic nature of the city :
«These are the walls against which the supreme hopes of Imperial Germany were shattered. […] It is here that France responds with unmoved assertiveness: «They Shall Not Pass ! ».
«Verdun They Shall Not Pass!» became the motto inscribed on the Verdun Medal created on 20 November 1916 by the Municipal Council of Verdun to be awarded to «the High Chiefs, Officers, Soldiers, to All. The heroes, known and unknown, both dead and living, who have triumphed over the barbarous onslaught and immortalised her name throughout the world and for ages to come, the Town of Verdun, inviolate and standing on her ruins».