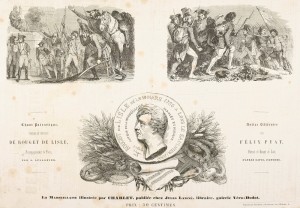 The July Revolution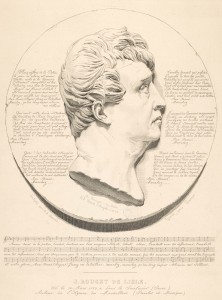 La Marseillaise was sung during the July Revolution. A portrait realised by French sculptor David d'Anger the preceding year also helped to remember its author. Following his election as lieutenant general of the kingdom in 1830, King Louis-Philippe granted a pension of one thousand and five hundred francs to Rouget de Lisle. On 6 December of the same year, Rouget de Lisle was awarded the Legion of Honour, following the intervention of one of his friends François-Ange-Alexandre Blein (1767-1845). However, La Marseillaise was banned in early 1831. From 1831 to 1834, it became a rallying song in jails and amongst republicans who had fallen victims to political repression.
A Portrait Medallion of Rouget de Lisle
French sculptor Pierre-Jean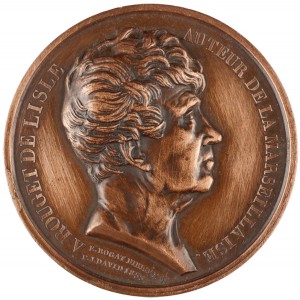 David d'Angers (1788-1856) met Rouget de Lisle when he was 67 years old. The artist modelled and carved this 60 cm. diameter marble portrait medallion in 1829. The medallion presents Rouget de Lisle's right profile; his hair is long, keeping with the fashion of the France's Romantic Era. The verses of La Marseillaise are engraved all around the portrait. In 1830, the portrait medallion was sold during a lottery for the benefit of Rouget de Lisle. Marble and bronze replicas were also widely disseminated. In 1844, Pierre-Jean David d'Angers presented a marble replica of the portrait medallion to the Monument dedicated to Rouget de Lisle in Thiais.
Another Contemporary Portrait
From 1830, Claude-Joseph Rouget lived with the Voïart family in a detached house in Choisy-le-Roi. Jean-Baptiste Voïart (1757- ?) was a portrayist, pastellist and miniaturist who drew a pastel portrait of his friend which today forms part of the collections of the Versailles Museum. The portrait reproduced here is a copy that the Emulation Society of the Jura commissioned to Jean-Baptiste Voïart in 1840. On this portrait we can see that Rouget de Lisle had blue eyes. The red ribbon is probably the ribbon of the Legion of Honour that was bestowed on Rouget de Lisle in 1830. Today, this portrait is on display at the Beaux-Arts museum of Lons-le-Saunier.