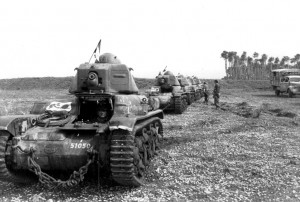 The 1st Free French Light Mechanized Division was created in Great Britain in July 1940. It was sent to Africa, where it took part in the Battle of Gabon in November 1940 and in the Syria-Lebanon Campaign during the summer of 1941. It headed towards Egypt where it was incorporated into the "Free French Flying Column", a unit operating within the advancing British Imperial Forces of the Eight Army fighting in the North African desert, where it took part in the Second Battle of El Alamein in October 1942. In early 1943, it joined General Leclerc "L" Force and participated in the Battle of Mareth, in Tunisia.
In July 1943, the French 1st Light Mechanized Division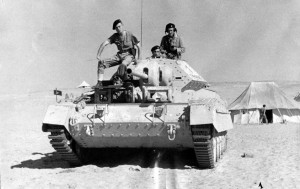 merged with the 2nd Company created in Chad and the 3rd Company created in Great-Britain, to form the 501st Tank Regiment (501e RCC) of General Leclerc 2nd Armoured Division. In the spring of 1944, the regiment embarked to Great-Britain where it underwent intensive training. In August, the regiment landed in Normandy where it was actively involved in combat before taking part in the Liberation of Paris on 25 August 1944. It distinguished itself in the Vosges and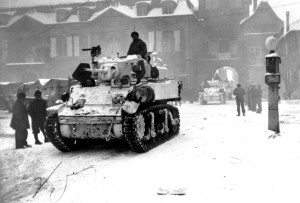 Alsace regions, crossed the Rhine in 1945 and finished campaigning in the town of Berchtesgaden, in Germany.
21 Companions of the Liberation served in the 501st Tank Regiment or in the armoured divisions of the Free French Forces.
Credits :© the Musée de l'Ordre de la Liberation / All rights reserved.