On 30 June 1940, the commander of the First Squadron of the 1st Regiment of the Spahis Light Cavalry, Captain Paul Jourdier, an officer who had rallied to the Free French cause, crossed the Lebanese border with half of his horse mounted squadron and entered Palestine to join the British.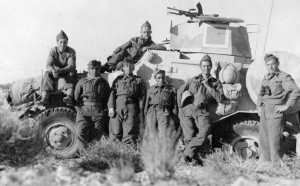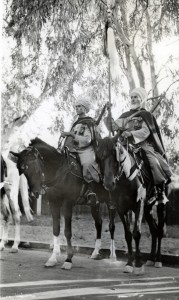 On 2 January 1941, following a successful cavalry charge against the Italians stationed at Umbrega, in Eritrea, the "Jourdier Squadron" won the first victory of the Free French Forces. In June, the regiment fought in Syria. The regiment was then mechanised and transformed into a reconnaissance regiment –"groupe de reconnaissance de corps d'armée" (GRCA). In October 1942, operating as a flying column, the GRCA took part in the Second Battle of El-Alamein in Egypt, before distinguishing itself during the Tunisia Campaign in the spring of 1943.
Captain Paul Jourdier organized the regiment as the 1st Moroccan Spahis March Regiment, as part of the French 2nd Armoured Division of General Leclerc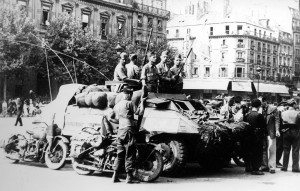 . Sent to Great-Britain in April 1944, the regiment became a reconnaissance regiment of the French 2nd Armoured Division, and took part in hard combat in the Normandy Battle and in the Liberations of Paris and the Lorraine and Alsace regions. The regiment finished the war in Berchtesgaden, Germany, in May 1945.
35 Companions of the Liberation were Spahis.
Credits : © the Musée de l'Ordre de la Liberation / All rights reserved.