The picture of French President François Mitterrand and Federal German Chancellor Helmut Kohl standing hand-in-hand in front of the Ossuary of Douaumont on September 1984 became a strong symbol of the Franco-German Reconciliation.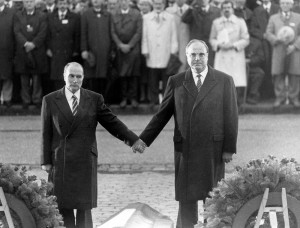 Chancellor Helmut Köhl promoted the encounter. During the fortieth anniversary of the end of WWII, he openly declared that he was very relieved not to have been invited to take part in the commemorations of the Normandy Landing that he considered «ambivalent» since too closely linked to the German defeat. Following this declaration, a ceremony reserved exclusively for the Germans and the French was organized in Verdun, a place linked to a tragic violent confrontation between the two nations.
On 22 September 1984, in the national necropolis adjacent to the Douaumont Ossuary, both men paused for a moment of silence in front of a catafalque draped in French and German flags as the German national anthem played. Just before the band started playing the Marseillaise, the French president took the hand of the German Chancellor. The two men stood hand-in-hand during the performance of the French national anthem.
This strong gesture between two heads of state of different political allegiance marked a new development in the symbolic meaning of Verdun as the Place of Memory for Franco-German Reconciliation.