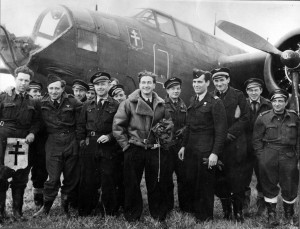 The Groupe réserve de bombardement n°1 (GRB-1) was formed in the French colony of Chad, in November 1940. It provided troop support for Leclerc's men in the Kufra Oasis in Italian Libya and went on fighting the Italians in Abyssinia and Eritrea.
In October 1941, while based in Damascus
, Syria, the group changed its name into Groupe de bombardement n°1 Lorraine (№ 1 "Lorraine" Bomber Group). At the end of 1941 and early 1942, the group, consisting of two squadrons "Metz" and "Nancy" equipped with Blenheims, took an active part in the Desert War, fighting in Libya.
At the end of 1942, the group was transferred to West Raynham, in Great-Britain, where it became № 342 Squadron RAF. Equipped with Douglas Mk IIIA Bostons, the squadron was assigned to low-level bombing and strafing missions over
France and Holland. It took part in the preparation for D-Day, continued to support the Allied advance in the Ardennes and ended the war in Germany, in May 1945.
During the war, № 342 Squadron RAF flew 3,000 sorties, dropped 2,500 tons of bombs and lost 127 of its crew members. 54 Companions of the Liberation served in № 342 Squadron RAF – Groupe de Bombardement n° 1/20 "Lorraine".
Credits : © the Musée de l'Ordre de la Liberation / All rights reserved