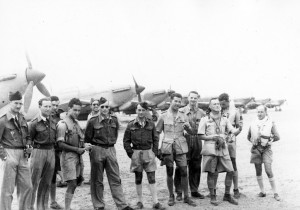 The Fighter Group 3/2 "Alsace" was formed in Lebanon, in September 1941, to perform ferry flying missions. During the summer of 1942, the squadron took part in the defence of Alexandria, in Egypt.
In January 1943, № 341 Squadron RAF was formed at RAF Turnhouse, in Scotland,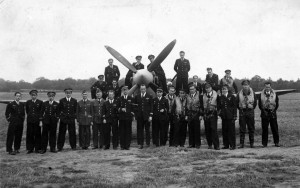 with personnel of the Free French Flight of the Fighter Group 3/2 "Alsace". Equipped with Spitfires VBs, the squadron flew bomber escort missions over France with its two escadrilles "Strasbourg" and "Mulhouse". It took an active part in the D-Day Landing operations and concentrated in low-level bombing and strafing missions against V-1 bases.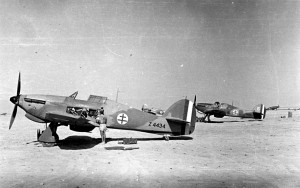 As from August 1944, № 341 Squadron RAF relocated to France, Belgium and Holland and pursued its sweeps over Germany. During the war, № 341 Squadron RAF flew 5,469 sorties, achieved 39 confirmed and 16 unconfirmed victories, claiming 27 ships and over 500 vehicles and locomotives.
23 Companions of the Liberation served in № 341 Squadron RAF – Fighter Group 3/2 "Alsace". In all, the squadron lost 21 pilots, a number that corresponds to the required number of personnel in actual operational service.
Credits : © the Musée de l'Ordre de la Liberation / All rights reserved